Properti is Giving Back to Our Flood-Impacted Communities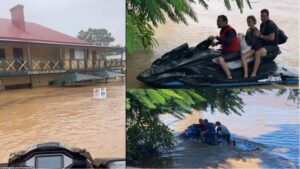 A few weeks ago, the east coast of Australia was hit by the worst rain and flooding we've seen in decades. Many areas are only just beginning to recover. During that time I happened to be staying at my Tumbulgum property, preparing to head down to Sydney for REB's REInnovate conference. For those who don't know, Tumbulgum (Northern NSW, 20 mins south of Gold Coast Airport) sits on the banks of the Tweed River – which peaked at about 4.8 metres. This was the highest recorded level in 150 years!
I knew the river was coming up, but the speed of it was more than we'd imagined. We'd set up a kayak out the back of the house just in case we had to make a getaway, but I didn't relish the thought of having to paddle around all the currents and debris to get to higher ground. Imagine my relief then when, just as we were about to jump on the kayak, I waved at a jet ski to come and help. Then imagine my surprise when that jet ski joined up with a few others, one of which was driven by Aussie hero, three-time world champion surfer Mick Fanning.
Turns out, Mick lives in the area, and wanted to pitch in to help the community during its time of need. When he popped by to chat on my recent episode of the REB Podcast, he had this to say about it all:

"It's a huge collective Australian thing – and the Australian spirit really came out over the last week and a half. People need to be recognised and people need to know they have done the best they possibly could and just look after each other," Mick said.
"It's not about ego or anything like that. It's just about making sure people are healthy and safe. That's why if Craig rings me any day from this time forward, I'm going to answer – because that's what you do for your neighbour."
Like Mick said, doing the right thing isn't about ego or prestige. It's just the Aussie spirit – helping your neighbour and pitching in what you can to make sure everyone is safe and healthy.
That's why I wanted to do some things to give back to the fantastic Tweed River community that has been my home for so long.
First, I've begun a GoFundMe page in a bid to lift the investment in resilience and preparedness in the event of future extreme weather. I highly encourage agencies to give back to their community by donating at our GoFundMe page.
I'm also announcing that my Real Estate Social Media Automation business Properti will be offering three months of free service to any agent servicing or living in flood-impacted communities. This way you can get back on top of your life without worrying so much about sales, referrals, leads, or any of that – let Properti handle it all. Reach out with the form below to learn more. 
Stay safe and dry out there,
Craig Deveson,
CEO, Properti.ai
Properti's Flood Outreach Program
Are You an Agent Who Was Affected by the Recent Floods?