Properti Now Supports Instagram Carousel Posts
Properti Now Supports Instagram Carousel Posts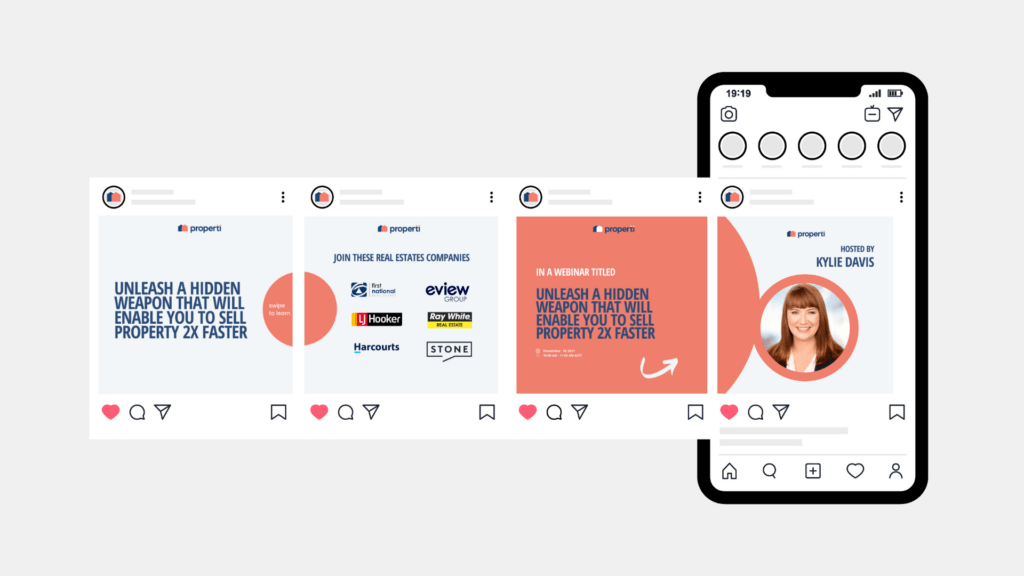 Properti is, at its core, a social media management platform, tailored specifically to suit the real estate industry. We cover a lot of platforms, but lately we've been giving special attention to Instagram, which in Q4 2021 crossed the two billion monthly users mark and ranked as the most-downloaded social media app of the year. This booming market is a great place for agents to ply their trade, but there's some features that we see not being fully utilised – in particular, multi-photo or "carousel" posts, which just became supported through Properti. Carousel posts are a great way to tell a story – always important in marketing – without clogging your audience's feeds. Let's take a look at how carousels work, and how you can best utilise them in your social media campaigns.
What is a Carousel Post?
A carousel is a type of in-feed instagram post that features multiple images, which the user can swipe through in the order of your choosing. They're commonly used for stores promoting their products, as they can showcase individual products without overlapping anything. They're incredibly versatile, and are a great way to keep your feed curated and aesthetically pleasing to your audience without compromising the value you provide them. Any account can post a carousel on Instagram by clicking the "Post" button, then the "Multiple Images" button on the next screen. To post a carousel through the Properti app, follow these steps:
Go to the 'listings' tab.

Select the listing you want to share.

Click the 'share' icon.

Select the Instragram channel.

The post will automatically populate with 5 images and default captions.

Click Schedule to post (either now or at a future date).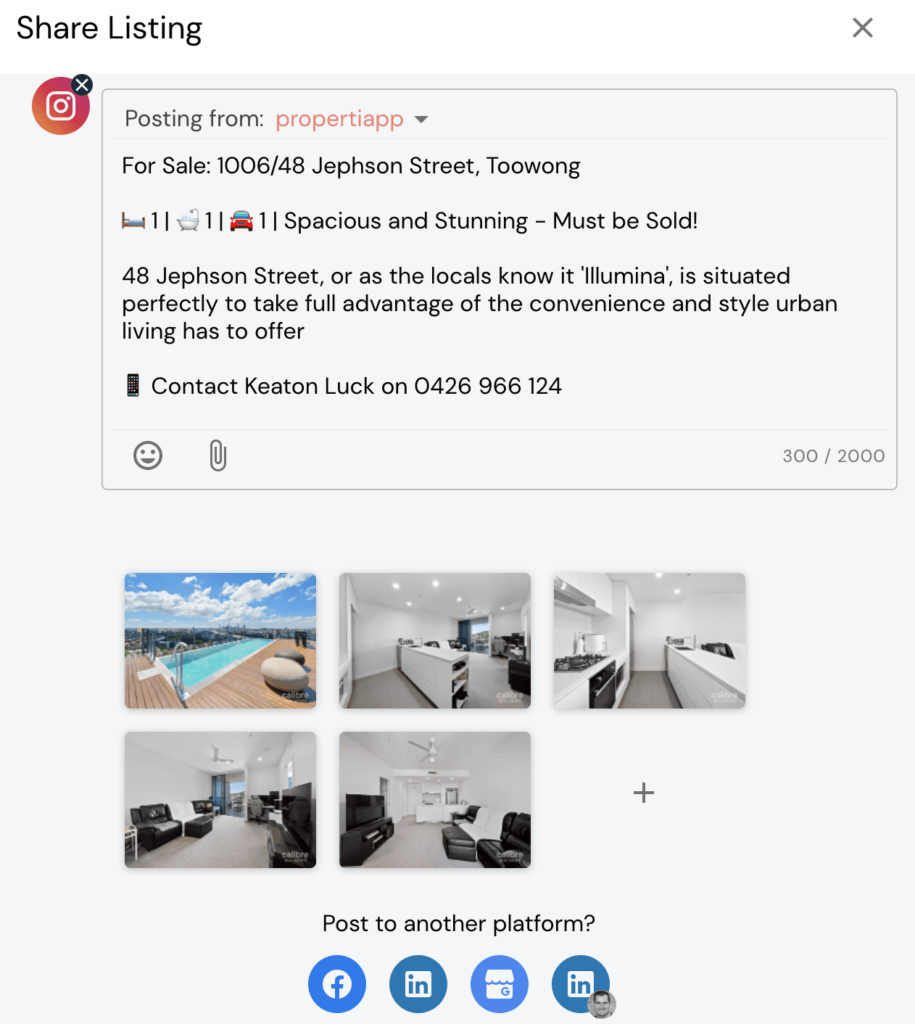 How To Use Carousels When Marketing Properties
One of the strongest features of carousel posts is their ability to tell a story. Storytelling is one the the most engaging forms of marketing out there, as it captures a viewer's attention without them needing to make any investment or commitments, and can keep your brand top-of-mind when they need it most. Here's a few ways to tell engaging stories through carousel posts:
Before & After Shots:

Before-and-afters are a classic way to grab attention from your audience. We all love a glow-up, and seeing the stunning transformation from fixer-upper to a home in a class of its own is always awesome. They're also great moments to educate, where you can give tips on interior design and renovation methods.
Behind the Scenes:

Seeing the inner workings of a business is always interesting, especially for those outside that industry. Showing off your day-to-day schedule, or the steps you're taking to prepare for an event, or what your agency does to celebrate a big win, is a great way to build relatability with your audience.
Walkthroughs:

If you want to showcase a property naturally but don't have the budget (or steady hands) for video content, carousels are a great mid-way point. Showcasing a property walkthrough from front door to backyard is an easy and clean way to advertise a property while also telling the property's unique story or selling points in the captions.
UGC Roundups:

User Generated Content is a huge boon to your marketing strategies, as it costs virtually nothing and does heaps of work building a relationship with your community. Online reviews, appreciation posts, anything that puts your customer's authentic words out there is perfect. Keeping these to a carousel is a great way to schedule these posts (ie. "Community Tuesdays"), and to keep them from overloading your more passive audience.
Summarise:

If you have a strong online presence and regularly produce written content, it can be tricky to make that content conform to the needs of different platforms. You can't really put your blog posts on Instagram. But what you

can

do is summarise them and spread them across a carousel. This keeps the content clear, readable, and engaging, and builds your reputation for providing value to your audience.
The Properti platform now features carousel posting, with up to ten photos or videos per carousel. Carousels are great for boosting visibility with your audiences, as they can show up multiple times in-feed without showing the same image, giving you more chances to connect with your community with each post. We're really excited to bring this great feature into the Properti workflow!
Whether you're showcasing a property for sale or cheers-ing at office drinks, Properti is the best way to generate, manage, and showcase your social media presence. Check us out at www.properti.ai