How Reputation Spreads on Social Media: The Tom Cashman Story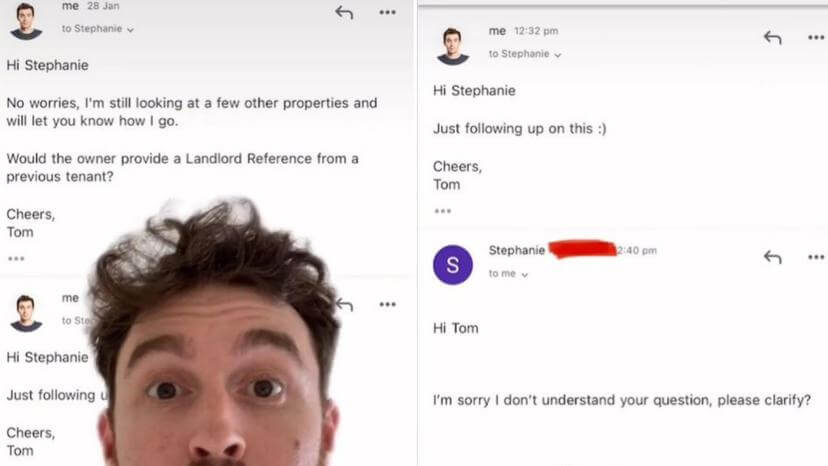 How Reputation Spreads on Social Media: The Tom Cashman Story
In early February 2022, a Sydney comedian by the name of Tom Cashman made global headlines after he made a series of videos on TikTok describing a recent experience he'd had with a prospective real estate agent and landlord. In the process of applying for a small Sydney apartment — a very hot, very competitive market — Cashman had been asked by managing agent 'Stephanie' to supply three references from previous landlords. Cashman did so, and was approved for the apartment — but he felt the exchange of references to be unfairly one-sided. So he decided to "ask something I never asked for before": he requested a landlord reference from the apartment's previous tenants. In his TikTok video, he ponders "What about [the landlord]? Are you a good guy? Are you going to fix stuff? Are you going to reply to my emails? Or are you just going to ignore me once I'm in there?" This was obviously an unusual request, and Stephanie wasn't having it. Cashman's application was involuntarily withdrawn following a terse back-and-forth, but since he was under no immediate pressure to move out, he simply moved on with his life and applied for more rentals. 
But things had changed. His story was out there. The next time he applied for an apartment — now under more pressure to find a place — the agent asked if he'd be requesting a landlord reference. He responded with a diplomatic "that has not worked out for me in the past", yet because the landlord recognised his name on the application, he was still rejected. "This was very funny a few weeks ago, not so funny now when I desperately need a place," he said on the TikTok video describing the event. The agent was sympathetic to his plight, but claimed that the landlord's decisions were final.
Cashman's story had spread, the articles written about his first video had been shared, and his name was out there. 
Tom Cashman's story has since grown beyond his initial, cheeky interaction with his potential agent and landlord. Agents know his name, with some vocally supporting his idea and some claiming it to be ridiculous. Landlords reached out to him online, claiming they'll happily provide references if their tenants ask. ALP member for Yerrabi Michael Pettersson even proposed a law that would require landlords in Canberra to provide references if requested. 
Cashman's story is a great example of the power of social media, and one that real estate professionals can learn a lot from. While it's obviously a uniquely viral case, there are still lessons to learn.
First, at the core of Tom's TikTok videos was his desire to start a conversation. By doing more than just stating his story and instead following up with questions and challenges to his audience, Cashman opened the floor to massive amounts of engagement. He was receiving comments from all sides of the issue, and this greatly helped word of mouth to spread on the topic. It even reached members of parliament and prompted a discussion that could lead to tangible social change. Starting your own conversations on social media is a great way to build a connection with your audience and grow it larger.
Secondly, Cashman's content was newsworthy. While it wasn't intended that way, Cashman stumbled onto a topic that was unique, had high impact to a range of demographics, involved some conflict, had a human interest angle, and Tom himself, as a touring comedian, added a degree of celebrity factor. This helped the story — and thus Cashman's reputation — grow beyond just his own social media pages, and it was taken up by news outlets across the world. Finding your own newsworthy content is hard, taking the time to talk to your audience about things happening in the world around us is great for spreading word of mouth about your social media content — especially if you can offer a unique insight.
Lastly, Cashman kept the content lighthearted. He never punched up or down, he kept his tone informative about the events as they were happening, and he worked to turn what could have been an aggressive or negative situation into a positive and funny one. This endeared him to viewers and built his reputation as a kind, intelligent person who was willing to go out on a limb for his fellow renters. While the average real estate agent on social media might not be expected to act in the same way as a comedian like Tom, doing that same work to keep your image positive, respectful, and interesting will do wonders for your general reputation on social media.
Managing your reputation online and offline is more important than most real estate professionals realise. Your reputation is what draws prospects towards you if it's positive and drives them away if it's negative. Social media is how consumers do their research these days, with engagement, reviews, and content driving decisions more than they ever have before. If you want to learn more about how social media can grow your business as an agent, Properti is here to help. Reach out through our form below to learn more.
Sign up for a free demo and turn your CRM into a Real Estate marketing machine.